After meeting at the Global Entrepreneurs' event in November 2010, Daniel Koseoglu asked me to take a look at the branding for his fantastic new catering venture, The Tiffin Company. He was setting up a catering business with a twist - great food served in a quirky style with professional presentation, and wanted a really strong image to help launch and establish his business.
The Tiffin Company makes use of the Indian Tiffin tin to deliver a range of delicious freshly-made hot dishes, perfect for any occasion from business meetings to parties. Daniel had a logo style in mind, but hadn't developed it fully and wanted some fresh input. I loved his whole business idea and his enthusiasm, and we worked very well together, arriving surprisingly quickly at a completely new logo image he loved and which immediately set the mood and the tone for his company - professional but fun, unusual and exciting, reliable but different and great value!
I developed the logo into a complete print brand, and used it on printed stationery, promotional literature, display material, corporate clothing and the livery for his delivery vehicles. I also designed the marketing material for Daniel's supporting business, The Tiffin Company Cafe in Longley, where all the food is produced. The end results looked great - I've never seen any of my logos that big before!
Daniel also asked me to write the copy for his promotional literature, and to help with the photoshoot for his website and marketing material - I loved doing that, and was able to style the photos to ensure the look and feel of his whole business was consistent, exciting and supremely stylish! We worked with fantastically-talented photographer Amie Parsons, who took most of these fabulous shots, and with Dan Tuck of Esolutions, who created Daniel's amazing website and animations. The whole day was a blast and we made an incredible creative team!
Here you can see some examples of the brand, how the logo and imagery easily translated to all aspects of the business, and also a short video clip, courtesy of Esolutions, of my logo - animated! How cool is that?
So if you're looking for catering which offers something different - whether it's a tasty meal for one or a delicious alternative to another boring buffet, I've helped to make sure The Tiffin Company delivers every time!
Find out more about the creative team from these links:
www.amieparsonsphotography.co.uk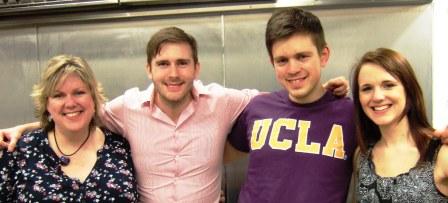 Me, Dan Tuck, Daniel Koseoglu, Amie Parsons
- what a team!