Calling all fellow fontmonsters...!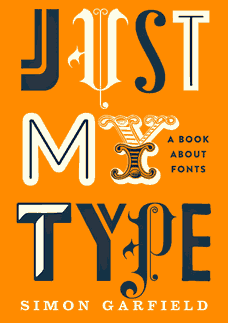 Book Recommendation!
You may have noticed by now that I 'm a bit of a font freak, so i f, like me, you love all things typographical and you collect fonts like they were going out of fashion (hence my daughter calling me a fontmonster!), you might like this fantastic book by Simon Garfield called 'Just My Type - a book about fonts'.
It gives some funny and fascinating background not only to the typefaces themselves and their design features, but also includes great human interest stories about the font designers, clients who've used them, how they've gone in and out of fashion - it's just brilliant stuff.
It was featured on the BBC Radio 2 Simon Mayo Book Club - and if, like me, you just had to have a copy, you can click on the image of the book (left) to be taken to the Amazon website where you can buy it. You can also watch a short (2 minute) but fascinating video of Simon looking at fonts 'on the street' in New York - click here to view. Great stuff!